• Can you introduce yourself and explain how Hufschmid Guitars came about?

My name is Patrick Hufschmid. I am a craftsman-luthier and the only artisanal plectrum maker in Switzerland. I live in the beautiful French speaking region of the country in a historical town called Aigle 5mn by car from Montreux. (you know, smoke on the water?)
I've enjoyed a very strong passion for the guitar since my adolescence. I began playing at the age of 11. I came across an old classical guitar hanging out of a trash bin and took it home. We tried to repair it and make it playable. I soon started taking electric guitar lessons and a few years later, I found myself repairing and customizing local friends guitars.
I have a very curious nature. I like to learn something new every day and I experiment A LOT. Hufschmid Guitars has existed since 1996. After completing my apprenticeship as a chef in Montreux I went to the United States to study lutherie in Minnesota at the renowned 'Red WingTechnical College'. I took a very comprehensive training course in both the repair and building of acoustic and electric guitars.
Here are pictures of my very first guitars, an acoustic and an electric! Ha ha…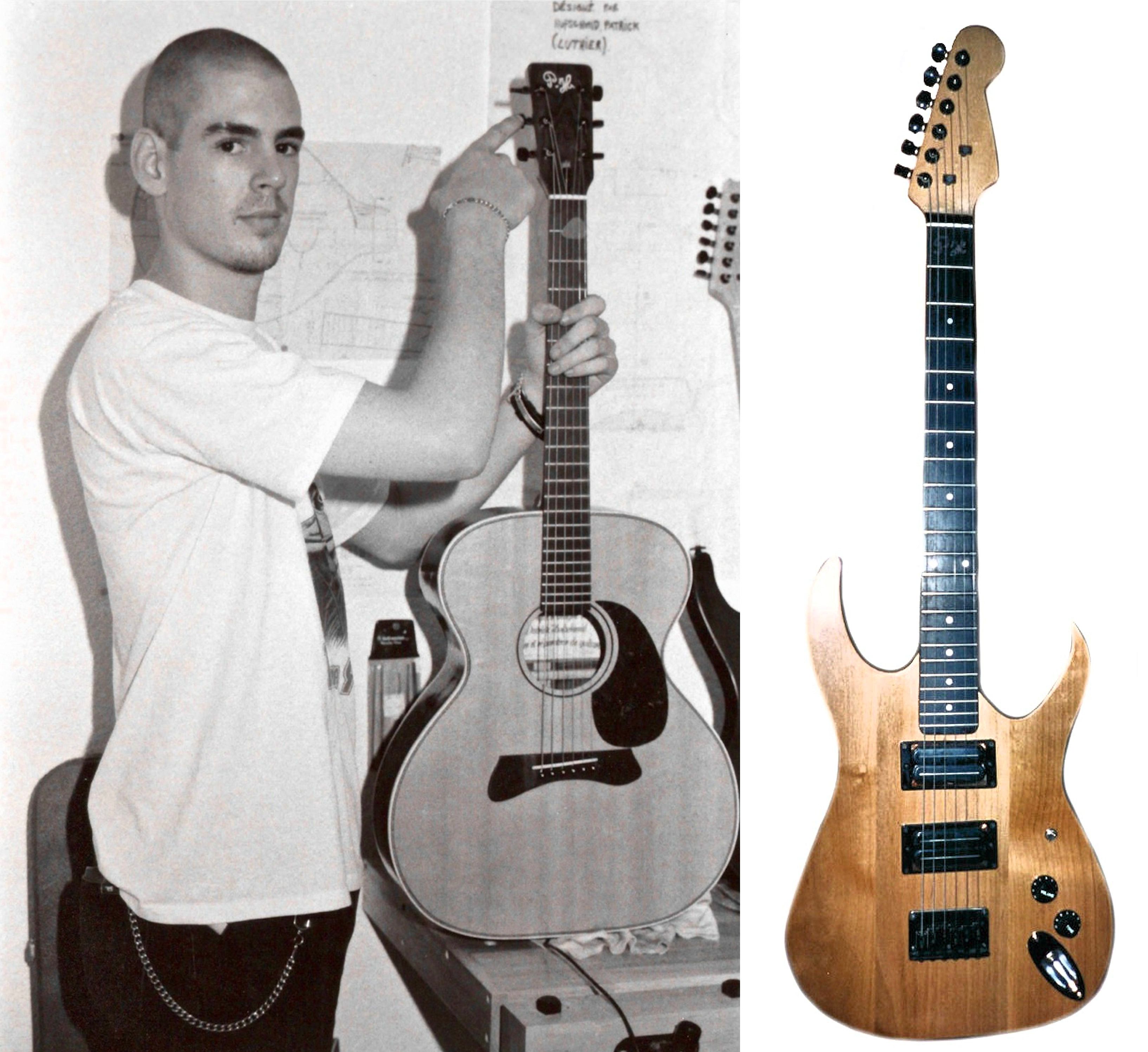 • What is your professional / technical background and what brought you to this field of activity?

I have a lot of strings to my bow, really. As well as being a qualified chef, I have a passion for wrist watches, which opened doors for me in the field. For several years I was employed as a specialist sales consultant in the area of wrist watches complications by a large group of watch manufacturers. I followed their intense training courses on luxury goods and branding, which has born a direct, lasting influence on my work today.
I have a great love of and passion for science and history in general. I happen to specialize in the history of the kings of France with a particular obsession for the King Sun Louis XIV and the history of Versailles. Because of my passion for history, I like to add some touches of the past to my work. Little details such as adding a beautiful seal to all the packages I ship to customers around the world brings me a lot of satisfaction. I also name my guitars according to historical events, art techniques, my favorite elements or historical figures.

Back in 2007 I decided to dedicate myself to my guitar business and become 100% independent self-employed. That wasn't easy in Switzerland, because of the very high cost of living. Thanks to my presence on social media I have been able to solicit the interest of a fairly large community that 'follows me' on a daily basis. I would just like to say thank you here to everyone who does!

• What are your musical influences?

I'm a kid of the 80s and completely addict to 80-90's heavy metal and pop music! All those great bands we used to listened to everywhere on the famous Walkman devices. It really made me burn to discover the electric guitar. As far as my musical taste is concerned, it's very eclectic. I listen to everything from the moment it pleases me. It may surprise you, but I am also completely addicted to baroque and classical music!

• What was the first guitar you owned?

The famous classical guitar I found in the trash! My first electric guitar was a Fender Strat copy by a generic brand 'Elwis'. My first real quality electric guitar was a Lag V with a cool snake skin finish!
12 years old sometime around 1988 with my first guitar, the 'Elwis'...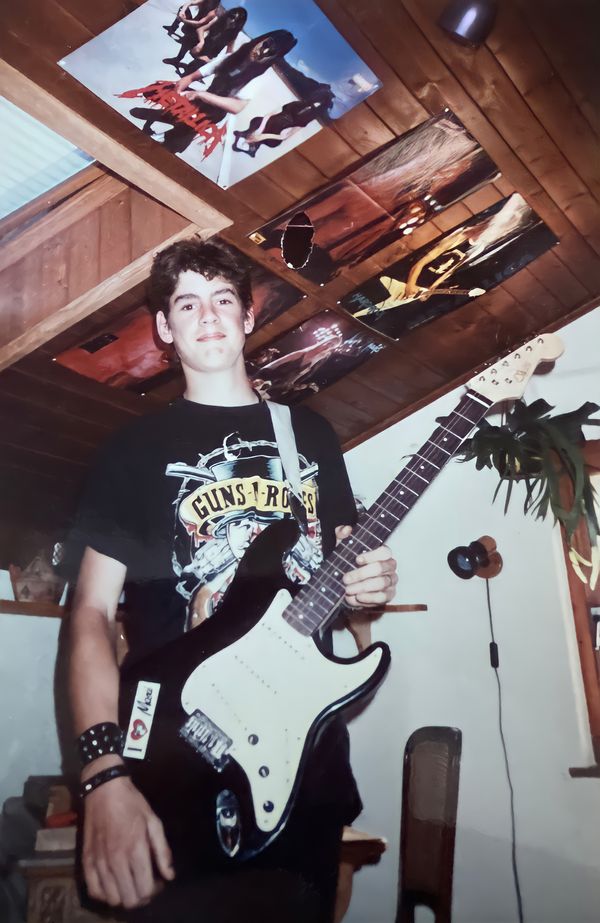 Still hard to do better at 16 than wear a Cannibal Corpse t-shirt and hold a LAG V! Ha ha!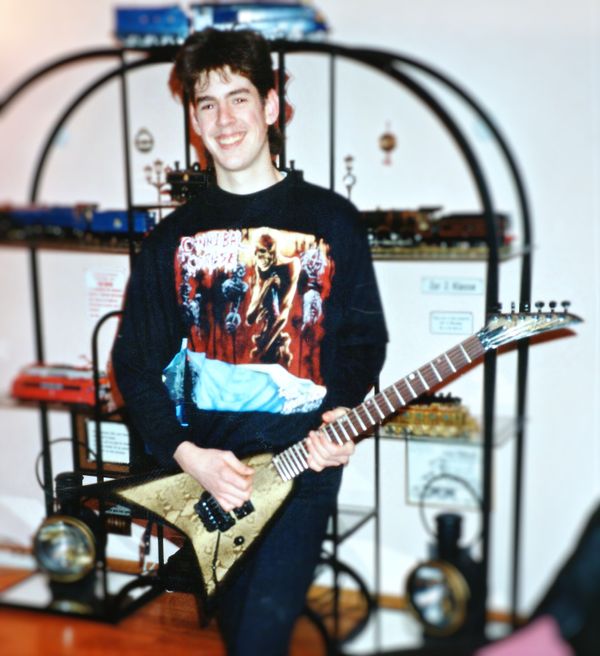 • What do you bring to the market with your specialist touches and creations?

As far as lutherie is concerned, I take pride building my guitars all by hand using small power tools. I use no CNC, no laser cutting or other mechanized methods of mass production. I want my guitars to be completely organic to the touch without typical mass production five million coats of horrendous plastic coating which means I only use hand applied oil varnish.

I have innovated a great deal in my designs. In particular I offer humbuckers for which I designed the external appearance. These are custom made by hand for me since 1998 by a legend in the industry. That's 24 years already! I even designed and copyrighted the world's first photo-luminescent humbuckers which I named 'Glowbuckers' back in 2015.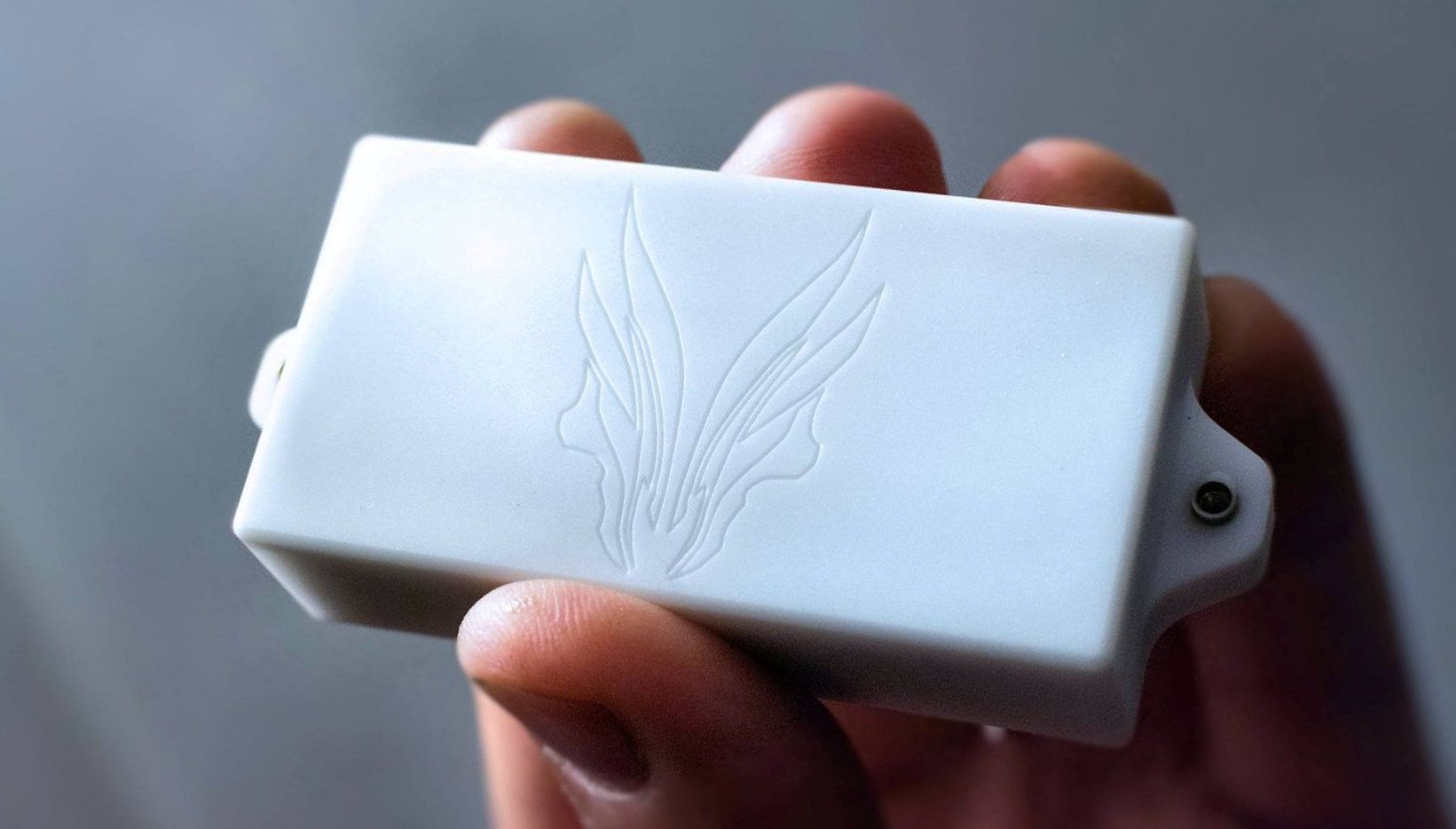 Working with engineering materials, has given me many creative ideas. I use them to make nuts, for example, which have become a visual signature on my instruments. Here comes the world's first polyetheretherketone (PEEK) guitar nuts! Copyright registration numbers: ©izQYo7lFJnEhicoA and ©0KgG6VKQUUmMzE3B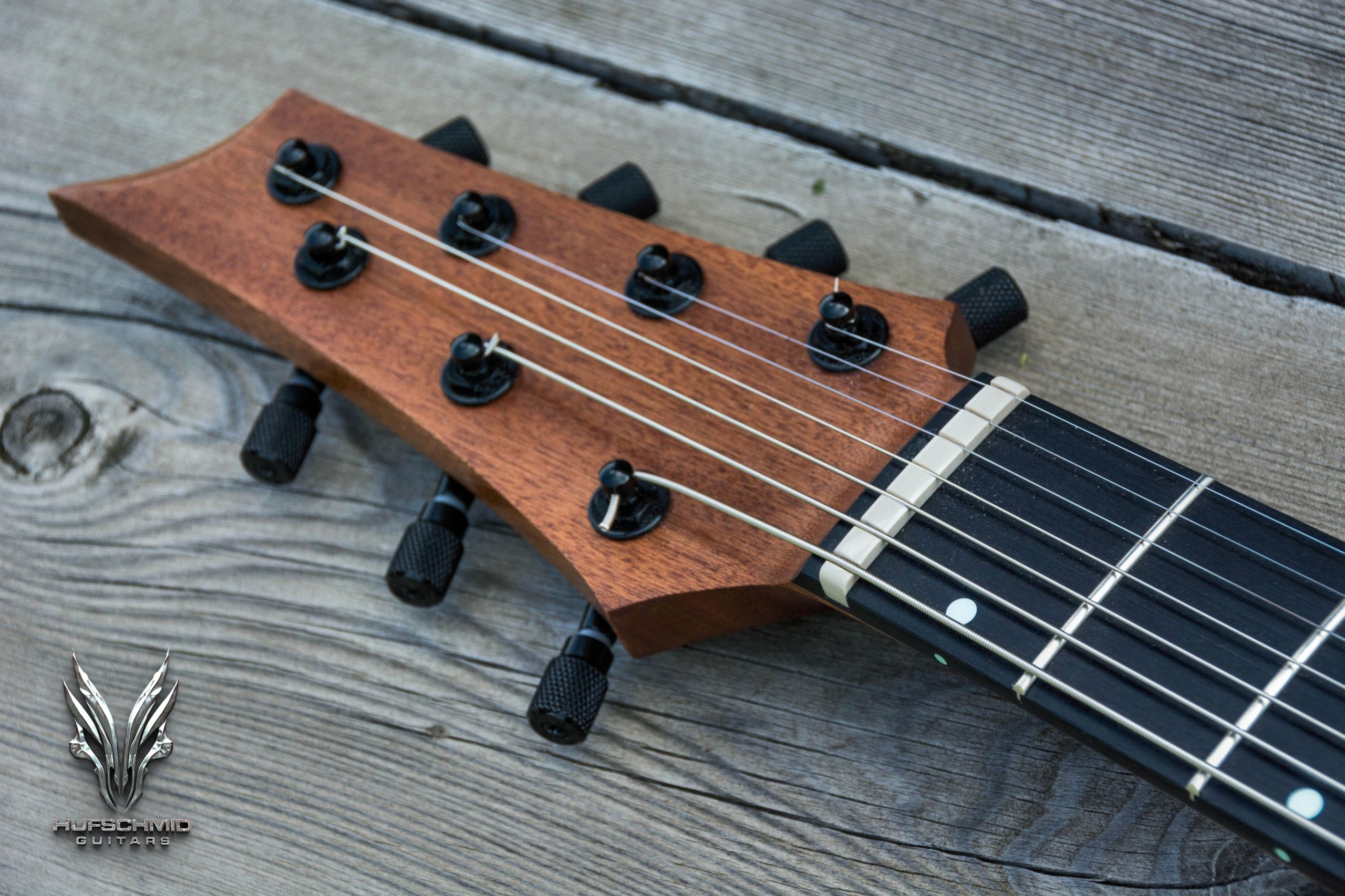 The world's first TORLON® 4203 nuts! Copyright registration number: ©qIYcyYIYUNflhw03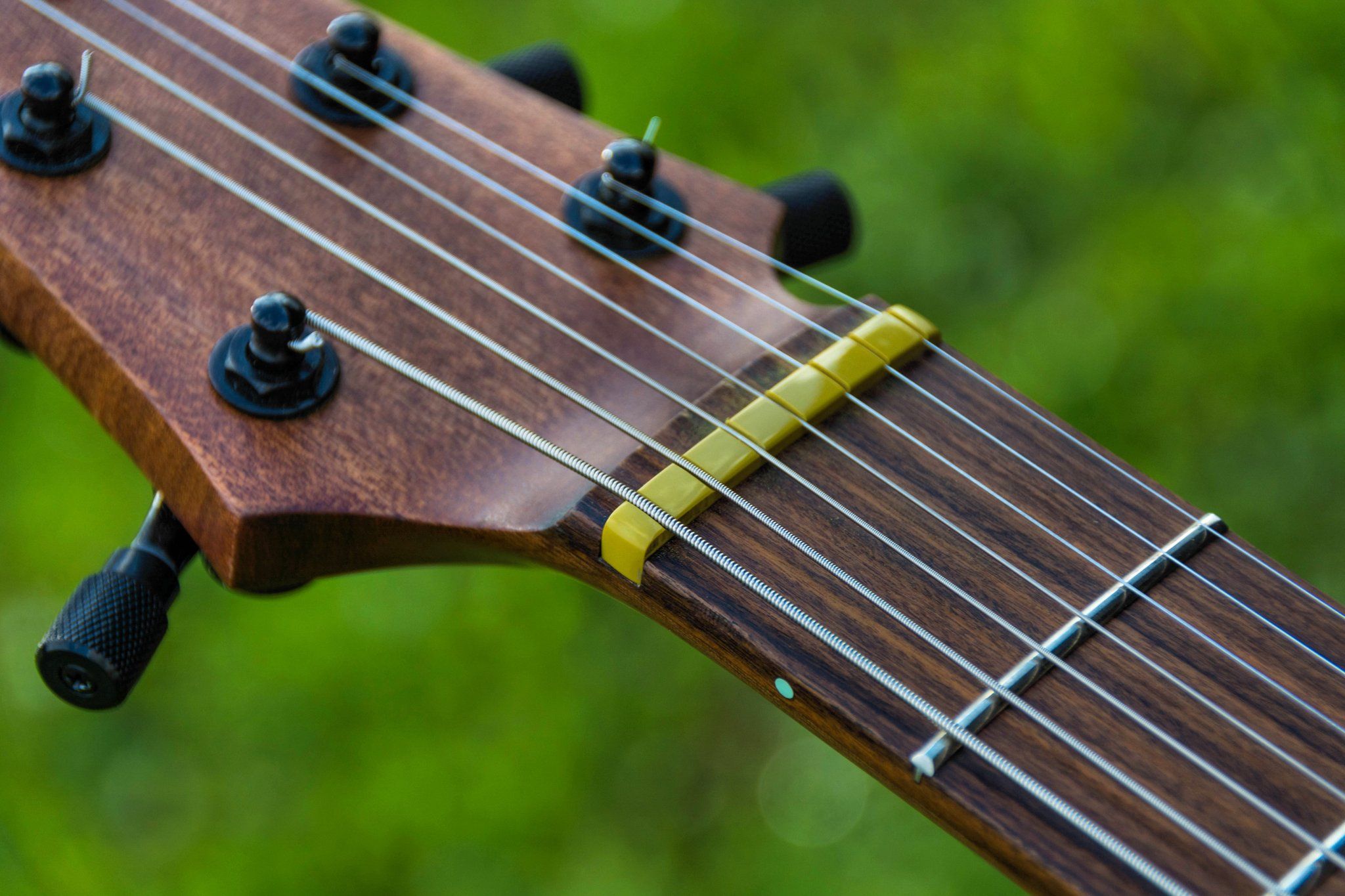 The world's first 'Orange Glowing' fingerboard block inlays! © registration number: cuSYucDJxKUKB1Nm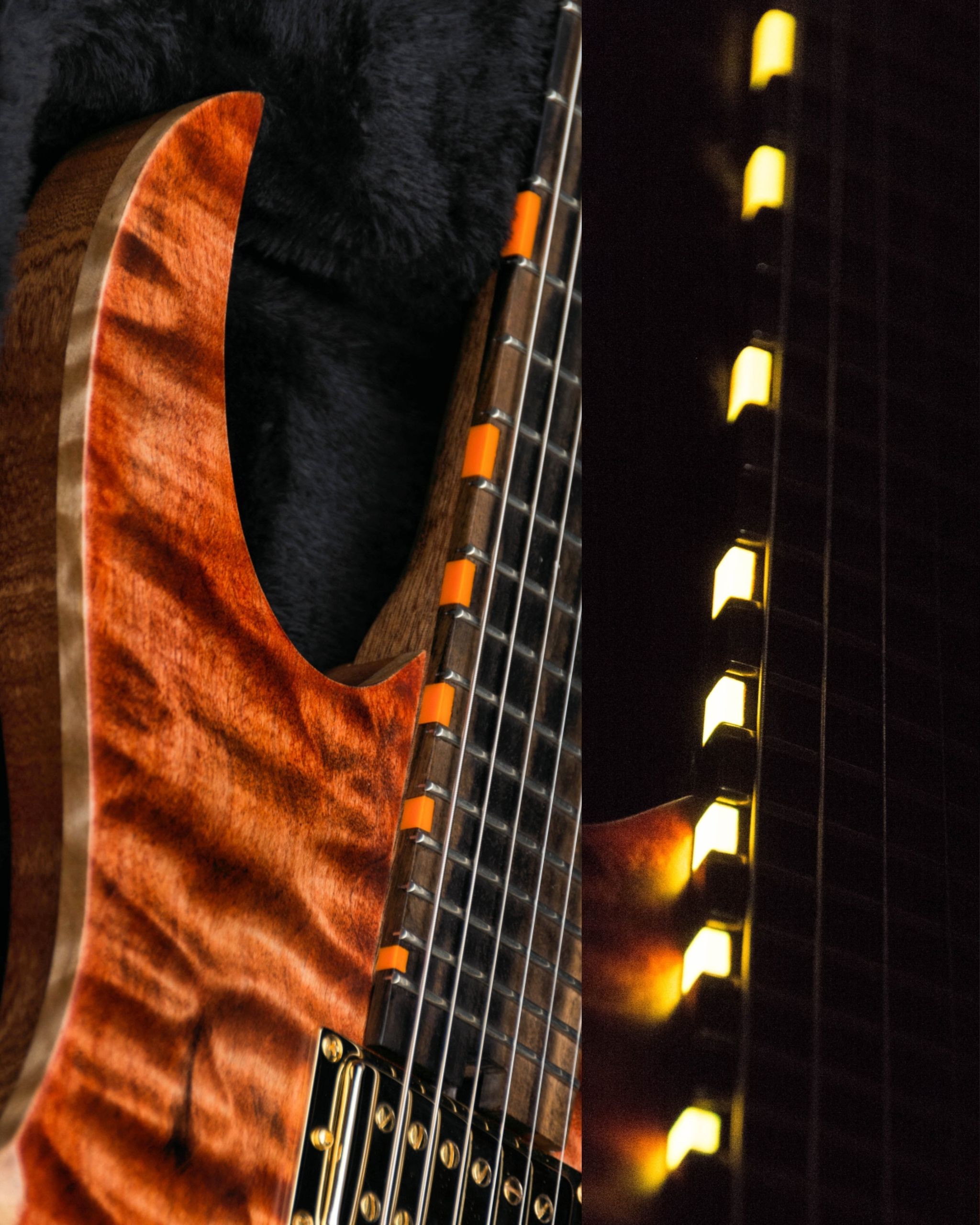 The world's first 'white glowing' fingerboard block inlays! ©Registration number: b6HaV4IvR5uSZX54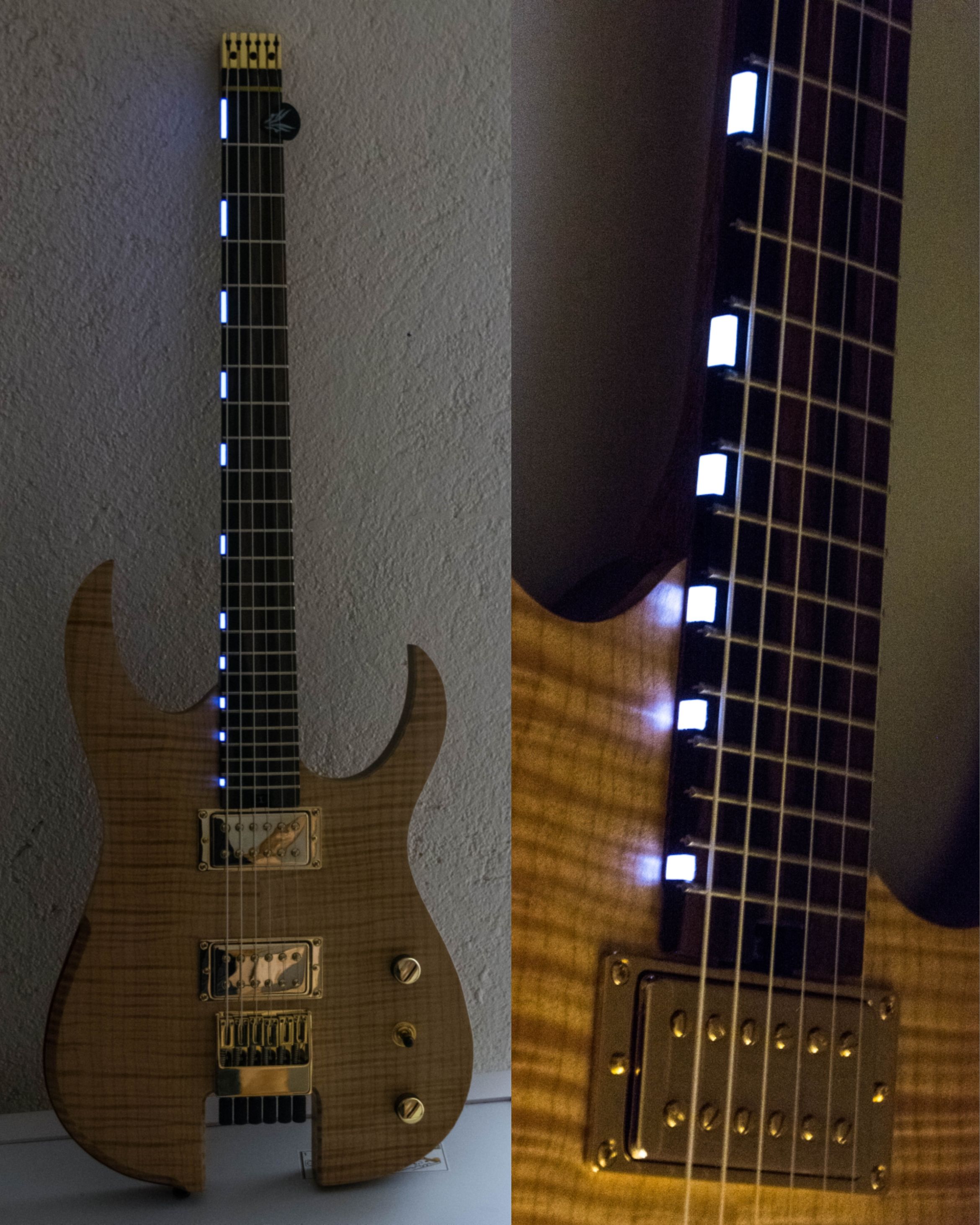 The world's first 'purple day/blue night glow' fingerboard block inlays! ©Registration number: XwoEdy5GCU9qeZtW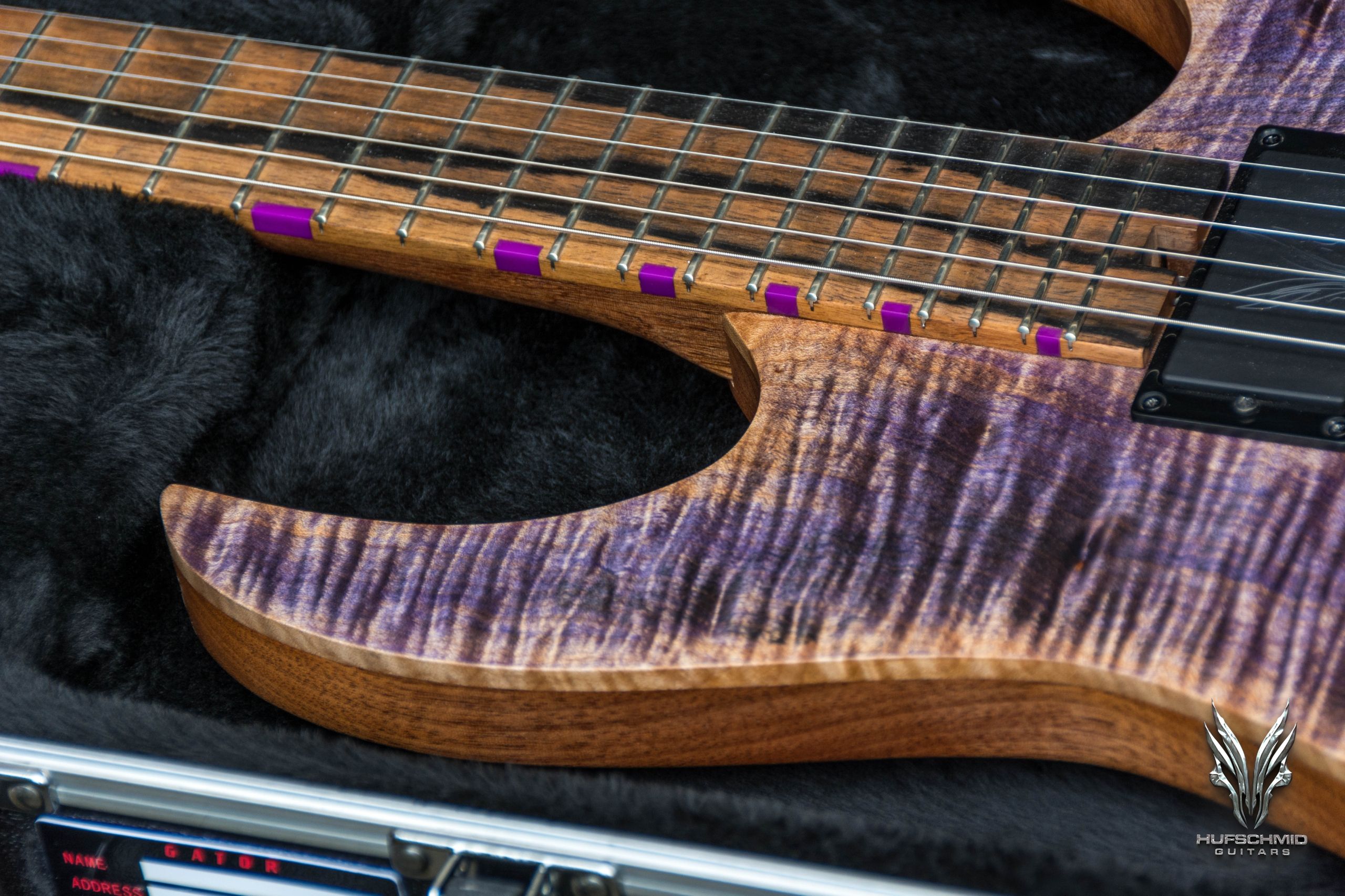 The world's first 'green day/green night glow' fingerboard block inlays! ©Registration number: FsPivBvkUYCozda9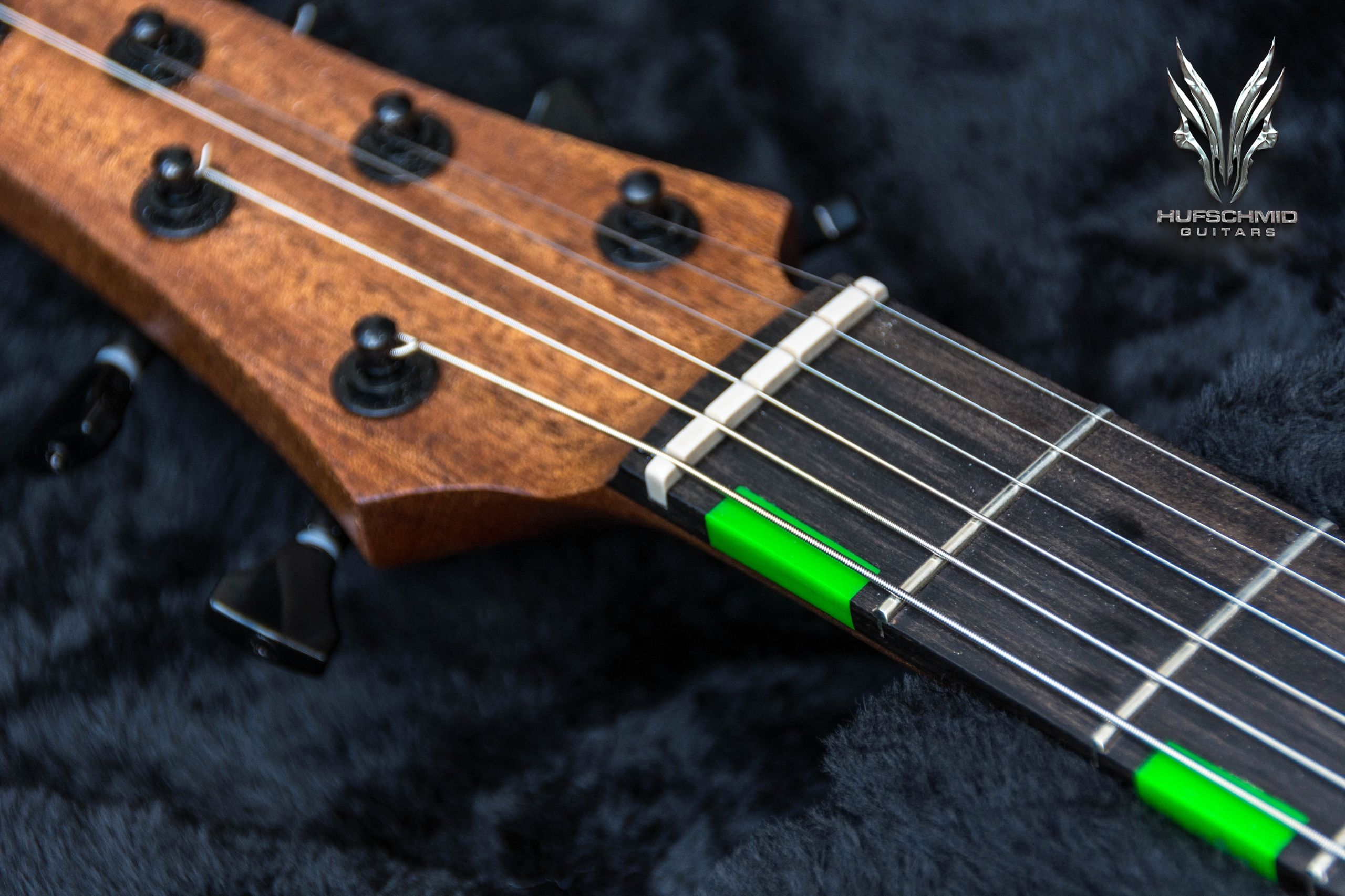 The world's first blue day/blue glowing fingerboard block inlays: © registration number: m9arHCOIWsMepqfl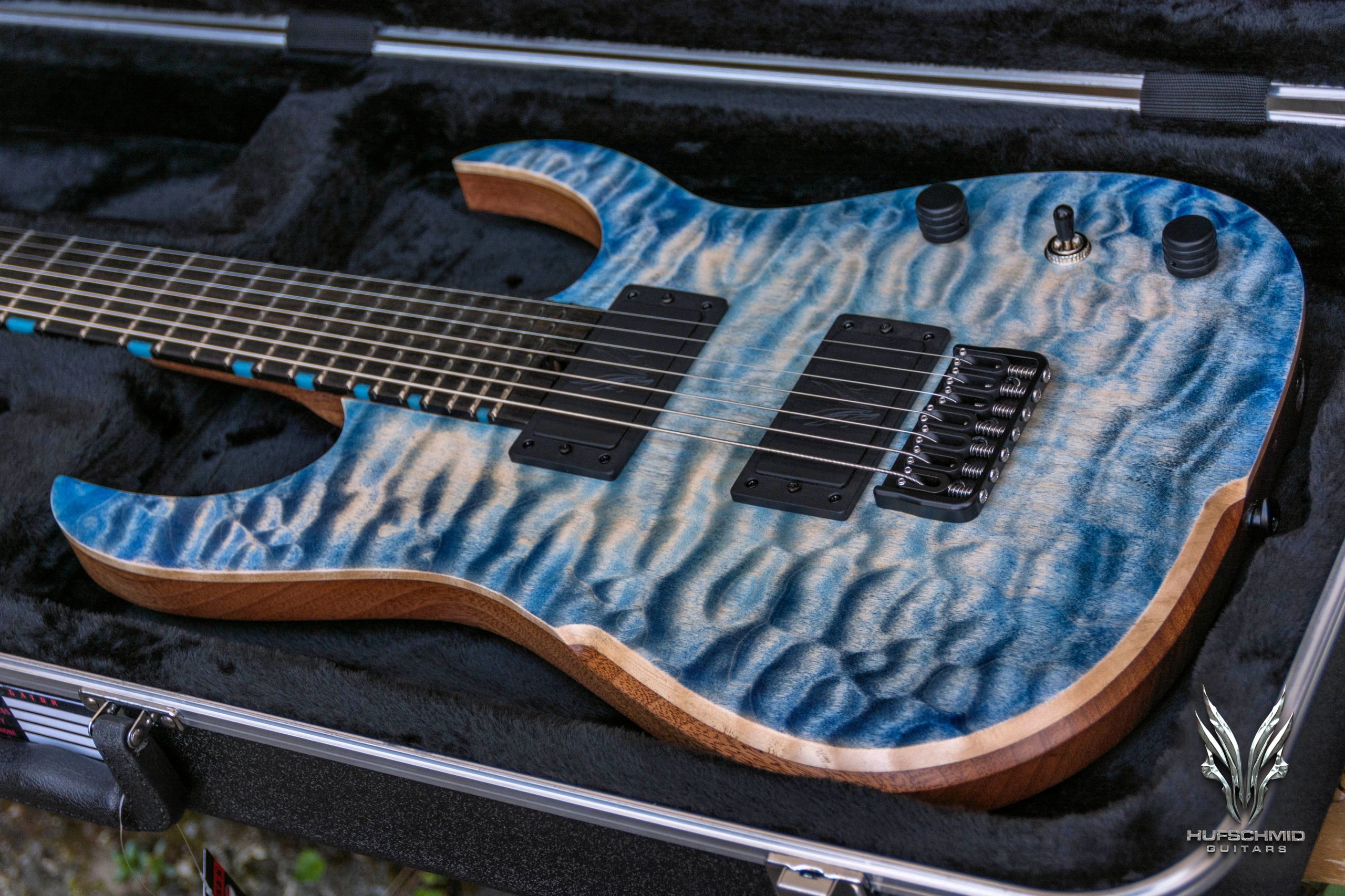 The world's first RED block inlays which glow RED in the dark! © registration number: rfr4MXs1B64RY1Zg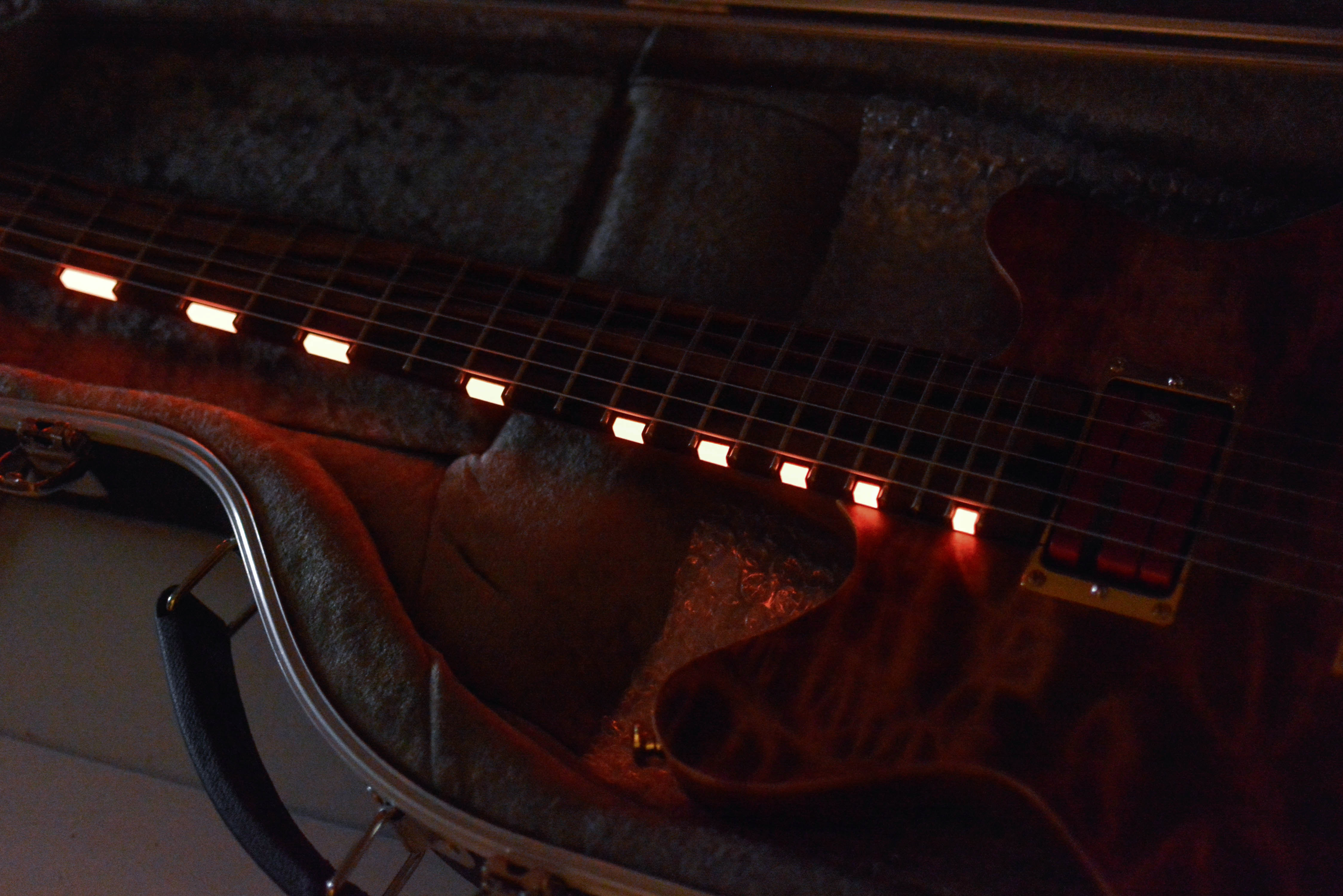 The world's first yellow day/lime glowing fingerboard blocks! © registration number: w9EsnCvJy7fwlfqJ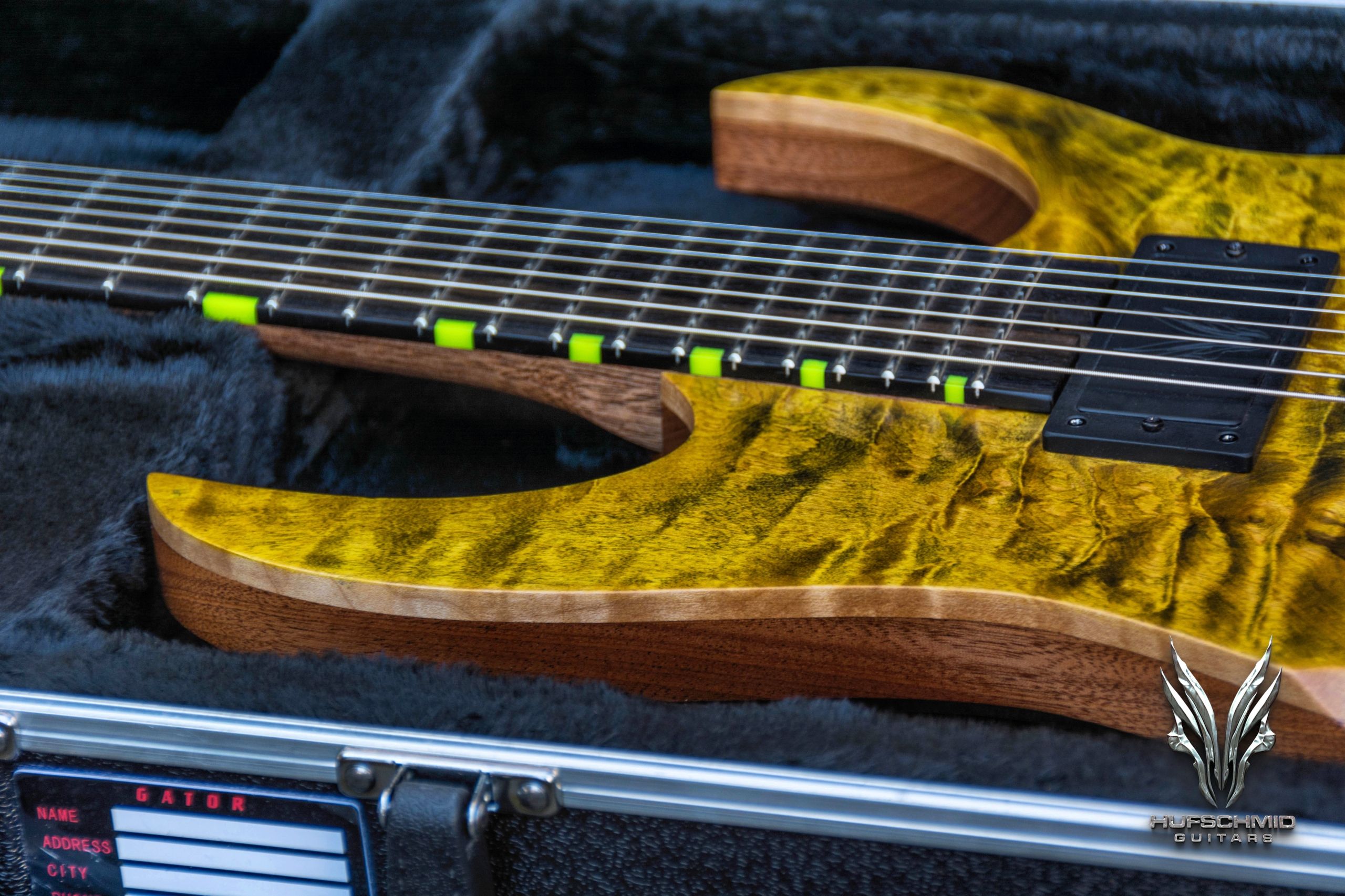 As far as building is concerned, I focus on my favorite species of wood for the neck and body – 'Sapele' or 'Sipo' mahogany. I always choose perfectly quatersawn pieces. The visual aspect, a certain aesthetic line that is my own, as well as natural finishes have developed into my trademark style. I can't stand Bling! My personal style of building is based entirely on simplicity and sobriety - a sort of philosophy of life, if you will.
"Everything should be made as simple as possible, but not simpler" -Albert Einstein (one of my heroes)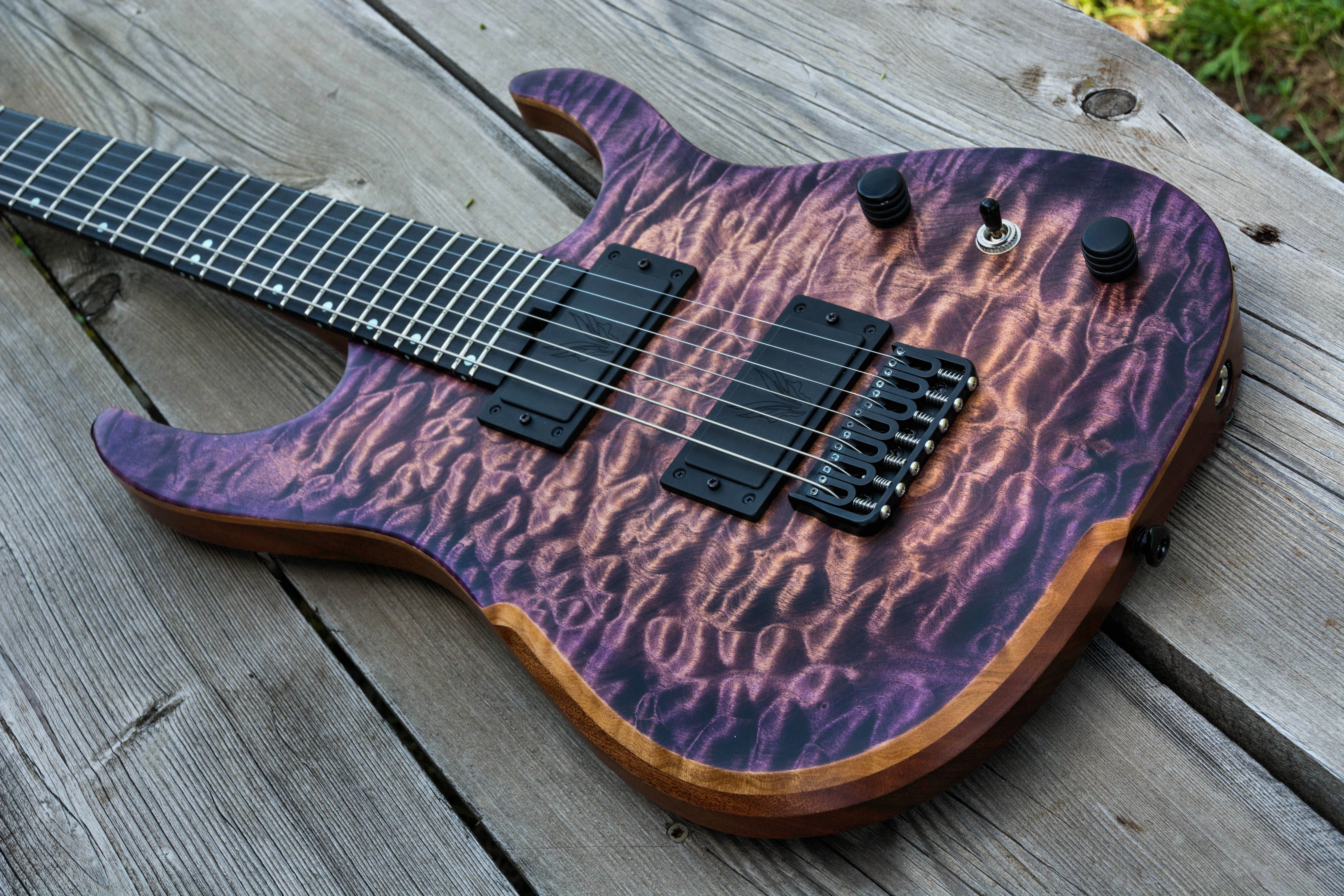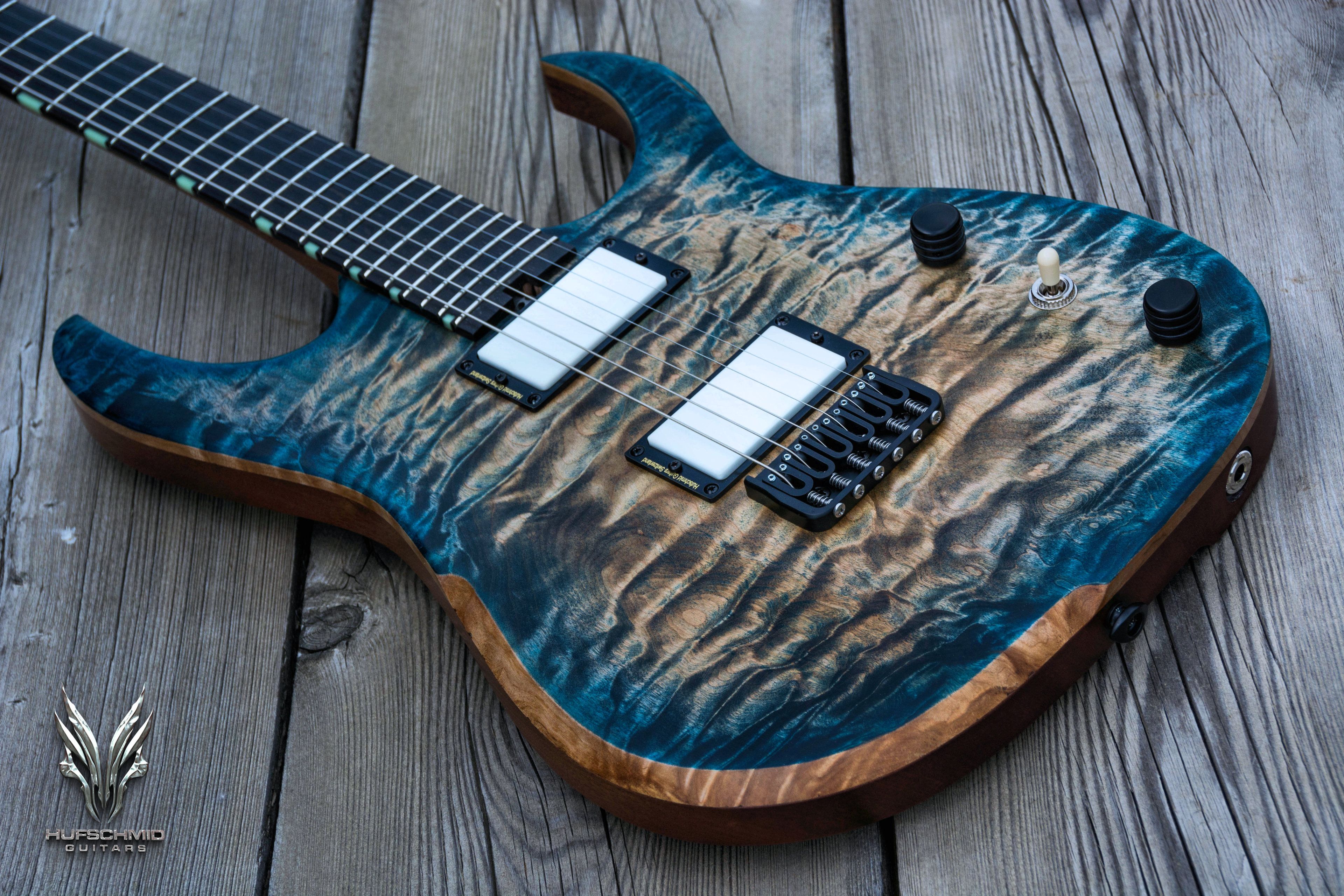 • Can you tell us more about your wiring work and choice of using Teflon (PTFE) caps and which ones are you using?
Wiring is an area in which I take particular care. I believe that I am the first guitar builder to be using TEFLON capacitors and have therefore copyrighted the concept! Copyright registration number ©Uy6VlWI7gk3Y2Ejc
I've been experimenting with caps for decades. Before switching to Teflon and during many years, I was using the famous PIO (paper in oil) K40Y-9. Those caps are really fantastic and were the best available for me during that period. However, they do occasionally need replacement due to their age. NOS PIO caps do not age very well.
Teflon capacitors are extremely reactive and considered in the audio world among purists to be the best in terms of sound hence the reason why they are used extensively in audio applications. The only downside is that they are MASSIVE and expensive which means that for both reasons, you will never see them in any musical instrument! It also makes no sense and no difference at all to be fitting such a HUGE high quality cap into a guitar for the application I am using them for.
However, because they are so big, they look really cool and because I am the very first builder to be using them, this instantly created a visual identity which is now related to my guitars.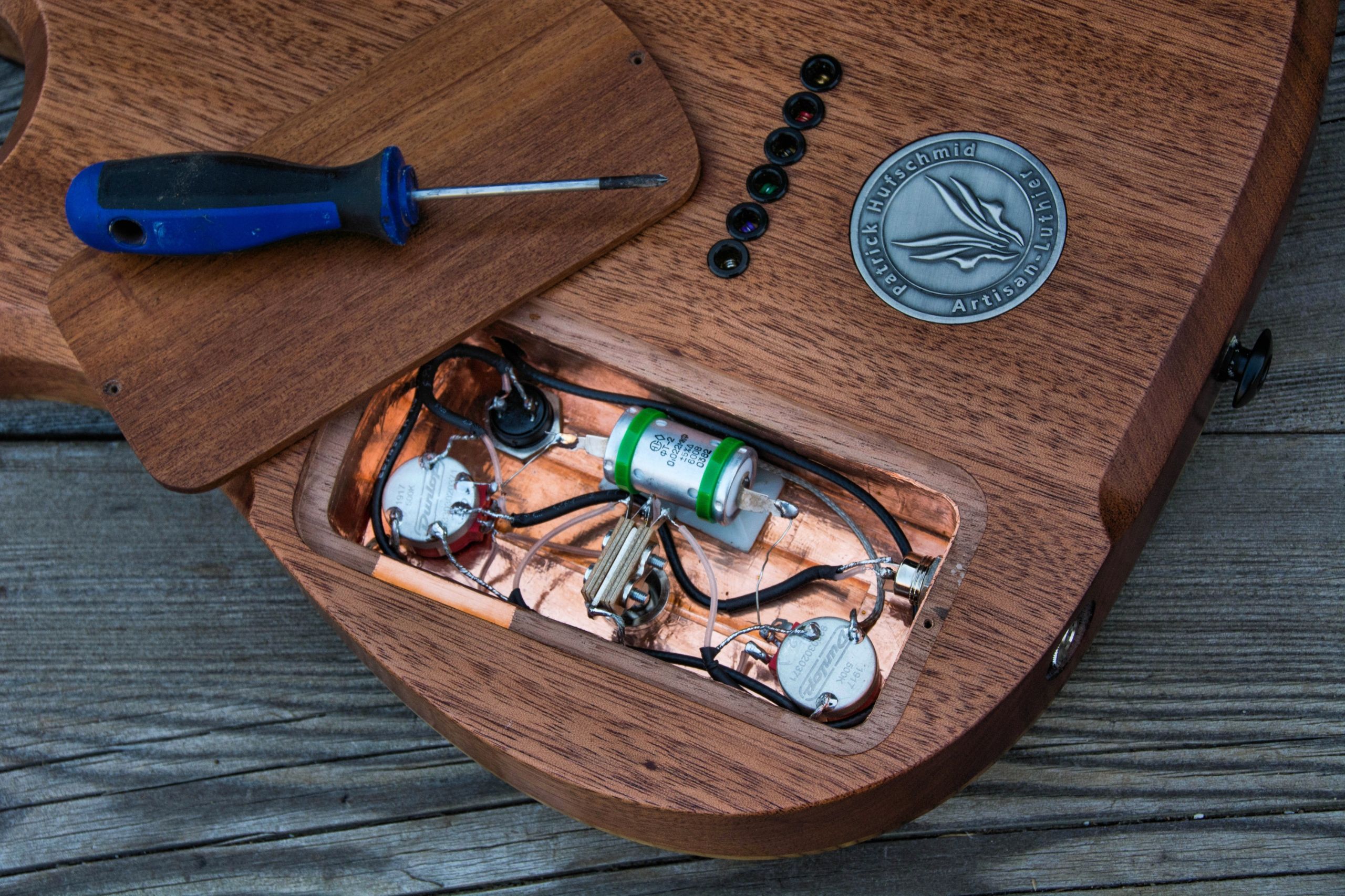 I'm never going to be using cheap caps inside my guitars. I've spent hours building the instrument which means I only want the best, no compromise + I love the look, total uniqueness! What you don't see must be as gorgeous as what you see because one day, somebody might open that cavity and the day he does, I want this person's mind to be blown away by the attention to detail I put into my work. At least, this has always been my goal and intention!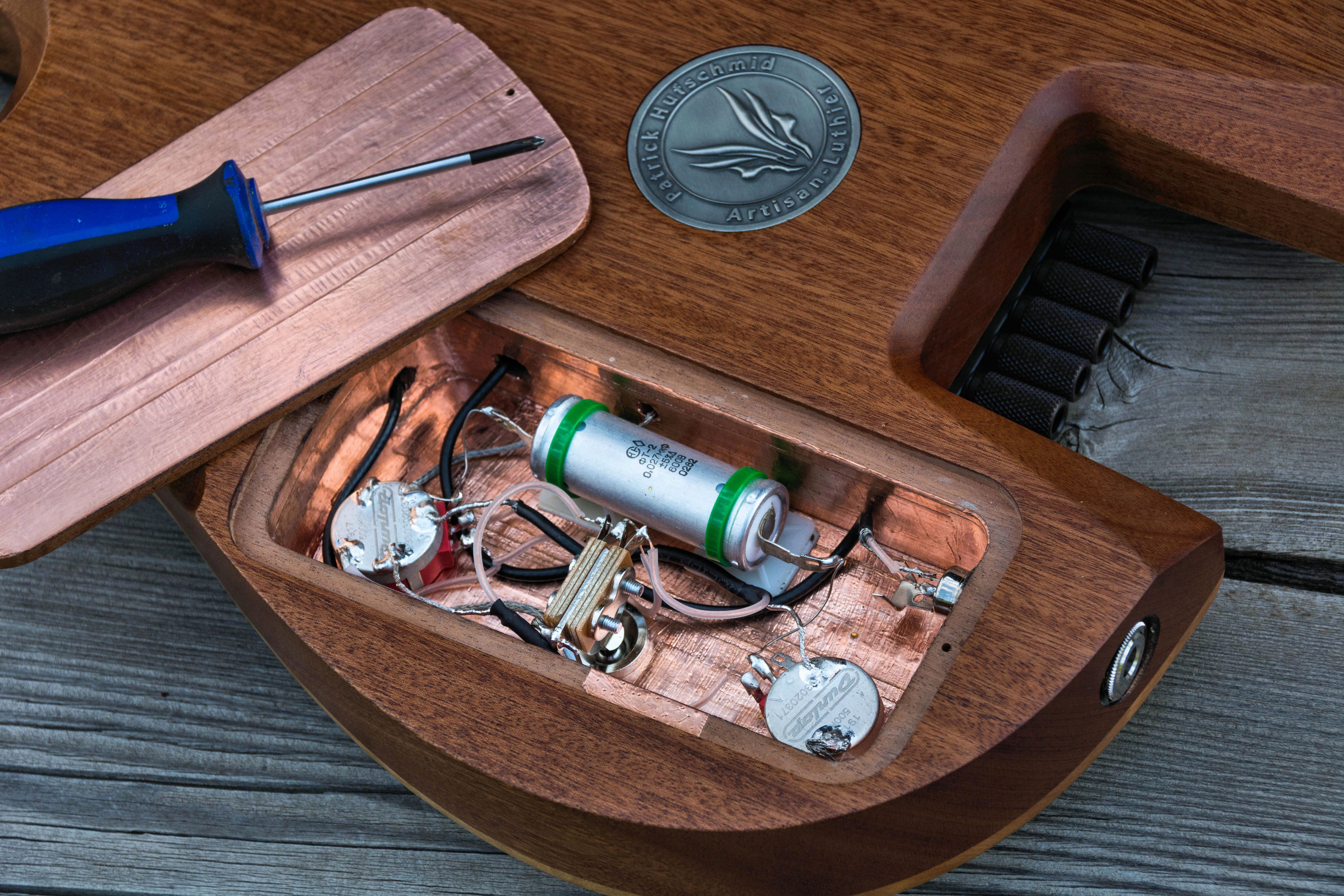 "The details are not the details. They make the design." -Charles Eames.

• Who are your guitars for - amateurs, or professionals?

Above all, everything's about meeting and making a guitar for an enthusiast. As long as he is passionate and appreciates the work of a craftsman, for me that really is all that matters. At the end of the day you know that your work is appreciated by someone who values it, be he professional or not and that is all that matters.

• You have been making headless guitars for a few years now (2012) and you've just launched a new model, the 'Atys'. Why this choice and for which players in particular are you intending these models?

Headless models have always been around. I remember when I was a fan of the French pop singer and genius Daniel Balavoine in he 80s. In the video clip of his track 'Laziza' you can see him playing a headless guitar. I have always been fascinated by these models and it came naturally to me to add them to my design portfolio. The difference with my guitars, is that I am not at all a fan of ergonomic or small and super compact instrument designs. My headless models have the dimensions, weight and shape of a standard instrument, so you do not feel you are holding a toy.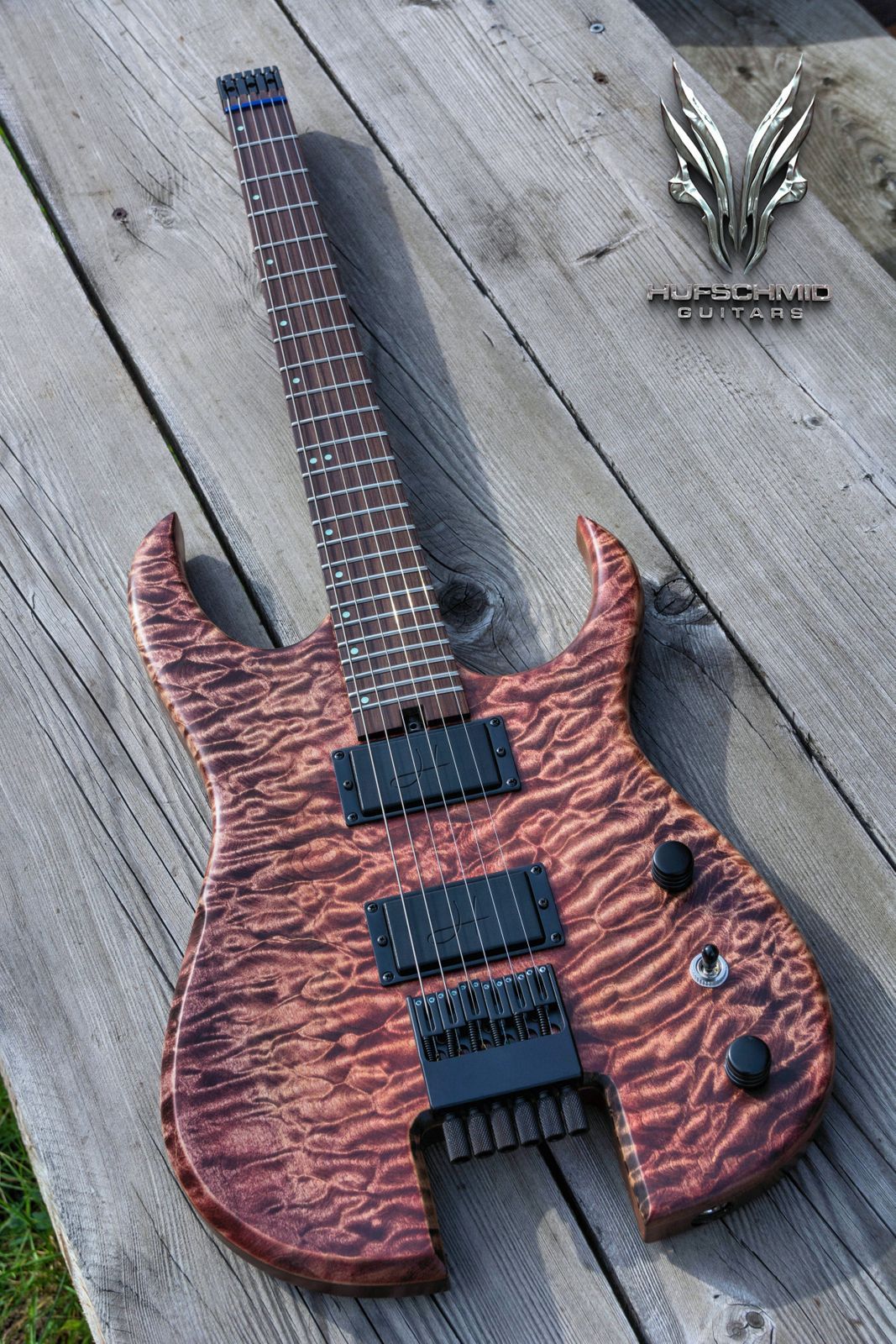 • You also make plectrums designed specifically to reduce the effort of playing. Can you tell us a little more about them?

It's a concept I meditated and thought about for years, in fact. One day, as I experimented with various ideas, it came to me naturally. My plectrums are much thicker than the norm. The idea is to minimise movement and increase the guitarist's hand strength. Less effort is required to play, which is a relief to the player. As a result, he will have less cramping and tenseness, which is very useful for guitarists suffering from osteoarthritis, tendinitis or other muscular problems. Naturally, this is also very interesting for the adventurous guitarist who has none of these problems, because this bio-mechanical phenomenon can help him obtain more precision, strength and speed too!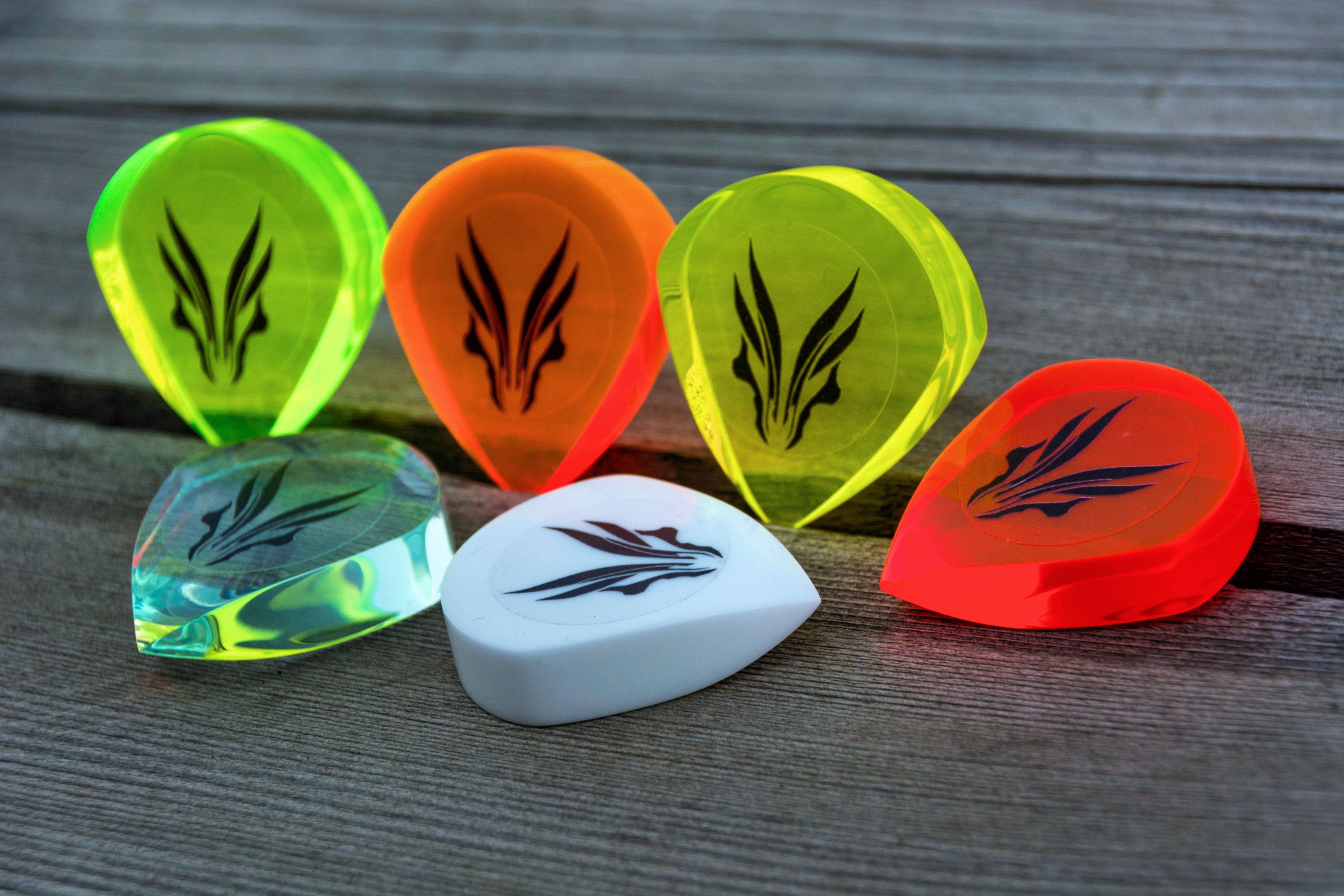 • What are the principal materials used for these plectrums? I believe you have done a lot of innovating in this field, haven't you?

Indeed I have introduced several world premieres. I use high performance thermoplastics that are used in engineering. Every material has unique properties.These thermoplastic materials are really very costly. The TORLON® 4203 plectrum, my original invention (2011):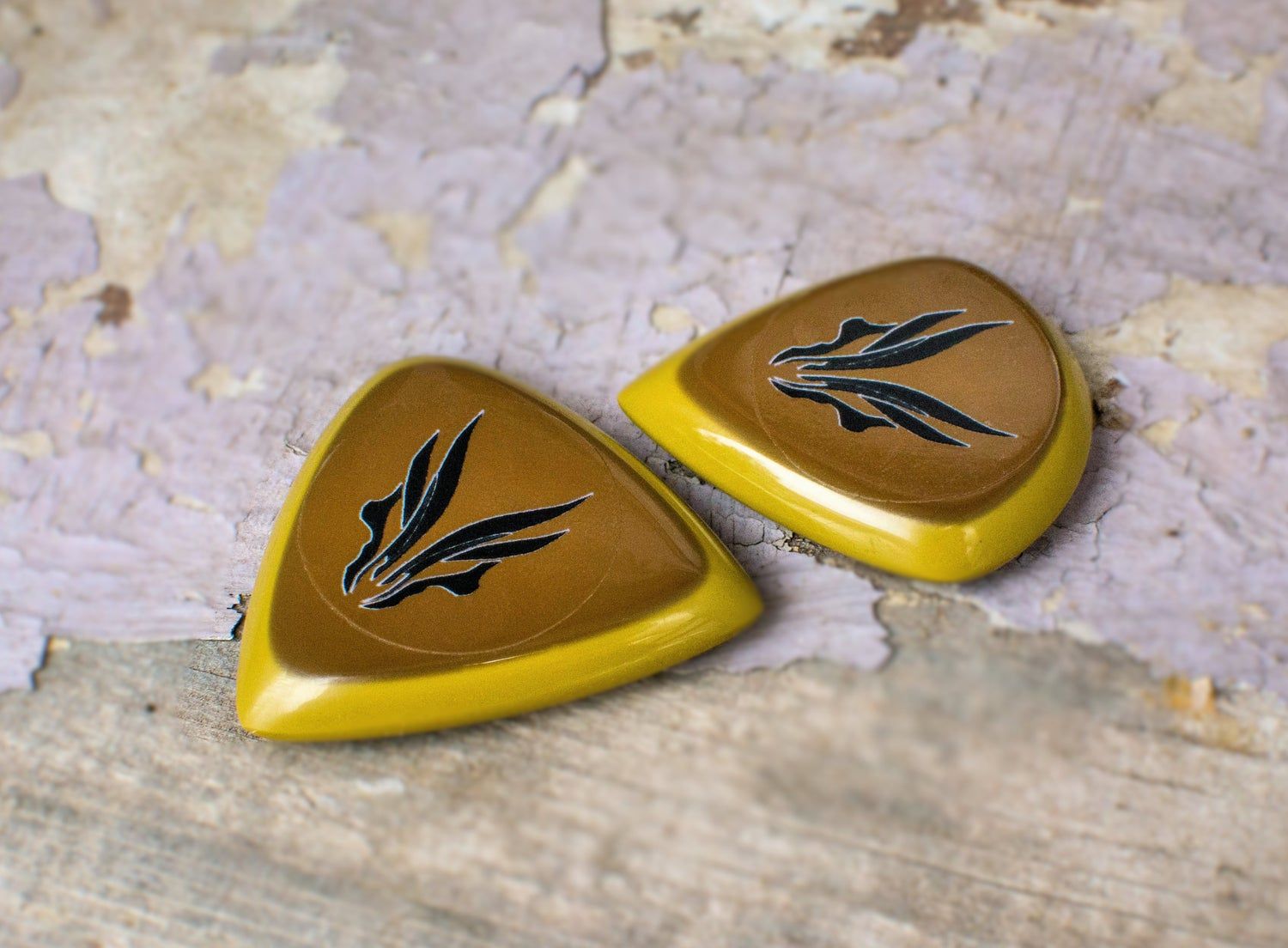 I also use a unique photo-luminescent material, which happens to be a certified security material. It glows very strongly in the dark and I called it 'HufGlow'.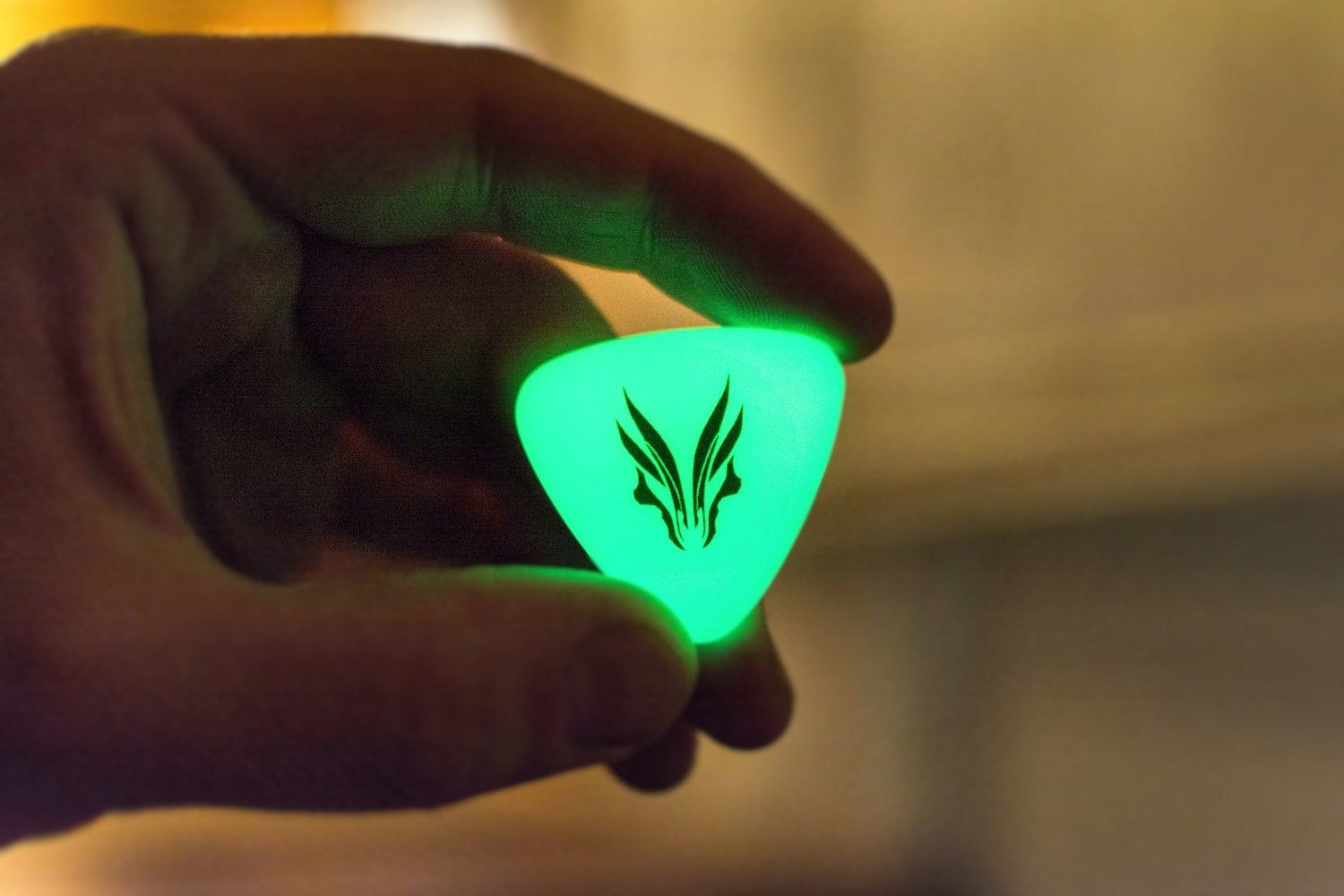 My aim is to bring my concept of thick picks into being in several different forms and different materials in order to provide the guitarist with a choice. This way, he can experiment and find what is best suited to his individual needs. And as for my guitars, I make everything by hand without the help of CNC, or laser cutting. My designs are 100% handcrafted and characterized by the utmost attention to both detail and polishing. It takes around 40 minutes minimum, to make a basic plectrum model and up to 2 hours + for one made in high performance material. Obviously this comes at a price, but, as in all my work, my love for what I do and my passion for doing it well, is what I bring.

• The everyday guitarist is often held back by the price of products crafted individually by hand. What could you say to defend the cost of making your guitars and plectrums?

Supporting an artisan is a wonderful thing. You uphold the craftsman's vision into which he puts all his heart, knowledge, know-how and experience. He is realizing an individual creation not a mass produced object without a soul. The years of work this entails can cause many personal hardships. Creative originality always does. You can buy cheap, mass-produced, machine-built items to save money, but think about it for a moment. The countries that export
these, for the most part, do not treat their employees well or even necessarily support human rights! 

• What is your news and what are your plans for the near future and further ahead…?

To stay the small artisan that I am. I like to believe there will always be an interest for individuality and people will be persuaded more and more by authenticity, high quality and the unique know-how that can never be part of faceless mass-production.

• Finally, what is your message to the guitar community?
My instruments are designed to celebrate Mother Nature in all of her uniquely natural beauty. The stereotype super finishes that remove individuality, and reduce everything to a bland similarity, are not my style. I search for the rare, unique piece of wood with character and personality.
For me, there is no more beautiful instrument than the guitar and it is an honor to serve it with love and passion. I hope my enthusiasm will pique your interest in my work!
The 8 string 'OUTRENOIR'!