Frequently Asked Questions (FAQ)
I'm just a self-employed artisan working alone in a tiny 5 square meters workshop located in the basement of my tiny apartment. I have no idea who are the 'guys' and 'company' you are taking about.
Do you have any stock guitars available?
No, I do not keep guitars in stock. Each one of my builds is a custom-made creation for the person who commissioned it. My guitars are individually made for the customer. Only exception would be a 'one-off' prototype which would be available for sale on the website.
When did you design your straight-pull headstocks?
I designed all of my current line of straight-pull headstocks back in early 2012. If you see one of my guitars with a string retainer bar on the headstock, this means it was built before 2012.
If an endorsement is all what you're after, click here.
I live and work in the French speaking region of Switzerland 5mn by train from Montreux (smoke on the water?) in a historical town called Aigle.
How can I join your waiting list?
I work with the 'first come first served' method on a maximum of 2 orders at a time, this way I never fail to deliver in time and always stay above my workload. My work schedule is divided between guitar and plectrum building therefore I can only build 5 to 7 guitars per annum. If you would like to buy one of my guitars, feel free to contact me via the website 'contact form'. The current waiting period until you receive your new guitar is approx 10 weeks.
Do you take any apprentice? Any training course available?
Absolutely not, I work alone since 1996. My workshop is also too small for 2 people (see video above). Hiring an apprentice or training somebody in Switzerland requires multiple legal actions, it is also very expensive and an unrealistic thing to do for a small artisan such as myself. 
I've sent you a message on social media but did not get a reply?
To stay efficient, I keep everything down to email. If you did indeed send me a message on Instagram or Facebook, this means that you've also received an instant automatic reply kindly asking you to contact me via my website. Again, If you wish to contact me, simply use the website contact form. Thank you for your understanding.
What is the meaning of your logo?
My logo is an abstract representation of who I am on several levels...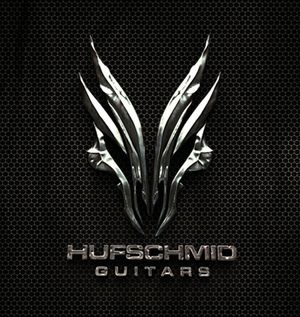 What is the difference between the 'Helldunkel' and the 'TANTALUM' model?
The 'Helldunkel' is a strictly 6 string model with set specifications (a 'stripped down model' if you prefer). Adding a top, choosing the scale or adding some exclusive 'HufGlow block inlays' is only available when ordering a 'TANTALUM' model. 
What is the first price of a Hufschmid guitar?
The base price is 3'300CHF (Swiss Francs) for a 6 string 'Helldunkel' model. A .pdf which contains all my prices and options is available on simple request. A currency converter is also available on the bottom of this page.
By simply contacting me via the website 'contact form'…
Which plectrum(s) would you recommend for me?
Click this link
Do you build tremolo and/or left handed guitars? Are your pickups available for sale?
Sorry, no.
I've been shipping 99% of my work worldwide for over 2 decades. 
What are your business hours?