Frequently Asked Questions (FAQ)
Hello there, thanks for the compliment! Just to clarify, I work as a self-employed artisan in a small workshop located in the basement of my apartment. I'm not sure who you're referring to as 'guys' and 'company', though!
Do you have any stock guitars available?
Sorry, I don't keep stock guitars. I specialize in creating custom-made guitars tailored to each customer's specifications. The only exception would be a one-of-a-kind prototype, which might be available for sale on my website.
When did you design your straight-pull headstocks?
My current line of straight-pull headstocks was designed in early 2012. Guitars built before then have a string retainer bar on the headstock.
Any videos of how your pickups sound?
Regrettably, inquiring about the tonal characteristics of pickups can prove to be a challenging task to convey, even through a demonstration video. This is due to the fact that, as an observer, you are unable to experience the subtleties of the dynamic range and how the pickups respond to your individual playing style.
Furthermore, I would like to direct your attention to my YouTube channel, located at YouTube.com/hufschmidguitars. On this platform, you can find a collection of existing demo videos showcasing various Hufschmid Guitars, which may assist you in making a more informed decision.
Additionally, when utilizing amplifier simulations, any signal can be processed to produce a stunning sound with a plethora of added effects. Even basic, factory-installed pickups, when employed in conjunction with a amp and effects modeling system such as an Axe-Fx, can easily deceive an untrained ear in the hands of a skilled player.
Therefore, the optimal course of action would be to experience the pickups firsthand through personal experimentation.
If you're interested in an endorsement, please, click here to learn more about the application process.
I'm based in Aigle, a historic town in the French-speaking region of Switzerland. It's just a 5-minute train ride from Montreux, known for the famous song 'Smoke on the Water' and the history of Queen and Freddie Mercury!
How can I join your waiting list?
To join my waiting list, please use the contact form on my website. I work on a 'first come, first served' basis and take a maximum of 2 orders at a time to ensure timely delivery and manage my workload. As I also build plectrums, I can only make a select few guitars per annum. The current wait time is around 10 weeks.
Do you take any apprentice? Any training course available?
Sorry, I don't take on apprentices or offer training courses. I've been working alone since 1996, and my workshop is too small for two people (as you can see in the video above). Additionally, hiring an apprentice or providing training in Switzerland involves significant legal and financial considerations, which are not feasible for a small artisan like me
I've sent you a message on social media but did not get a reply?
To keep things efficient, I prefer communication via email. If you messaged me on Instagram or Facebook, you would have received an automatic reply asking you to contact me through the website's contact form. Please use that form to get in touch with me. Thank you for your understanding.
What is the meaning of your logo?
My logo represents me on multiple levels in an abstract way.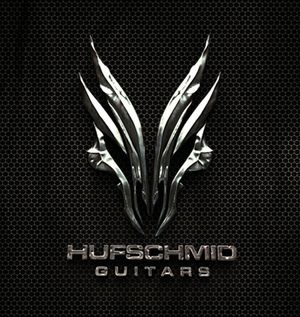 What is the difference between the 'Helldunkel' and the 'TANTALUM' model?
The 'Helldunkel' is a 6-string guitar with fixed specifications. The 'TANTALUM' model offers more customization options, such as adding a top or exclusive 'HufGlow block inlays', and is not limited to 6 strings.
What is the first price of a Hufschmid guitar?
The starting price for a 6-string 'Helldunkel' model is 3,300 CHF (Swiss Francs). You can request a .pdf with all pricing and options, and use the currency converter at the bottom of the page.
What is the meaning of your flagship model Tantalum?
This flagship guitar model represents the pinnacle of elegance and craftsmanship. Like its namesake metallic element, the Tantalum is built to last, with superior durability and high-performance features. But the name Tantalum also has roots in Greek mythology, where the King Tantalus was punished by the gods for his insatiable desire for wealth and power. In a similar way, the Tantalum guitar represents something that is highly desirable but not easily obtained, making it an exclusive and coveted instrument for serious musicians and collectors. With its sleek design, premium materials, and exquisite attention to detail, the Tantalum is a guitar that exudes luxury and class. Whether you're a professional musician or a serious collector, the Tantalum is a must-have addition to your collection. 
What is the meaning of your Helldunkel model?
The Helldunkel's name pays tribute to the contrasting light and dark tones it produces, allowing you to explore a wide range of musical styles. But it's not just about the sound - the Helldunkel's sleek design and quality craftsmanship make it a joy to play. This unique instrument represents my design ideology distilled into its purest form.
By simply contacting me via the website 'contact form'…
As a Hufschmid, my last name is an old medieval name that means "horse shoe maker" - a fitting inspiration for a plectrum which looks like an Anvil and which is designed to last and provide the best possible tone.
Which plectrum(s) would you recommend for me?
Click this link
Do you build tremolo and/or left handed guitars? Are your pickups available for sale?
Sorry, no.
Yes, I ship my work worldwide and have been doing so for over 20 years.
What are your business hours?