Welcome to the Hufschmid Guitars FAQ section. Below, you'll find answers to some of the most frequently asked questions about my guitars and craftsmanship. If you have any questions that aren't covered here, feel free to reach out to me directly, and I'll be happy to assist you.
About me, Patrick Hufschmid and the Workshop
Are you a company?
Just to set the record straight, I am not a company but a solo artisan. My name is Patrick Hufschmid, and I run my workshop from a converted apartment basement. Here, I am fully immersed in the craft I love.
Where is your workshop located?
My workshop is situated in Aigle, Switzerland—a historic town just a 5-minute train journey away from Montreux, a locale rich in musical heritage.
---
Guitars
Do you have any stock guitars available?
Very rarely, I do indeed have an instrument for sale. Sometimes, I like to fulfill my passion by creating something really unique and putting my skills to the test. When I do have the time to build such an instrument, it is then available for sale on my website. I don't keep a stock of ready-made guitars. My speciality lies in crafting guitars with my unique style, and I offer customization options within that style to meet the unique preferences of each customer.
What's the difference between the 'Helldunkel' and the 'Tantalum' model?
The Tantalum guitar is a pinnacle of sophistication and craftsmanship, with its name rooted in Greek mythology. It represents an unattainable level of luxury and serves as an object of desire among discerning musicians and collectors. Customizable specifications range from adding a top to choosing the scale and the color of the glow-in-the-dark fingerboard inlays. 
In contrast, the Helldunkel is named to reflect its broad tonal range, capable of delivering both clear and dark tones. It's my entry-level model with set specifications for optimal performance. There is no option for adding a top. While it allows for some customization in body and headstock shapes, all other features are standardized to offer both reliability and comfort. It encapsulates my design ideology in its purest form.
What is the starting price for a Hufschmid guitar?
The starting price for a 'Helldunkel' is 3,300 CHF (Swiss Francs). For a detailed price list, you can request a .pdf file via the website contact form.
Do you offer tremolo or left-handed guitars?
Unfortunately, I do not offer these options.
Why do you use high-end Teflon (PTFE) capacitors in your guitars?
When it comes to crafting guitars, every single detail counts, and the internal components are no exception. I have copyrighted the concept of using Teflon capacitors in guitars, not because they affect the sound - Because in the way I use them, they don't - but because they represent an uncompromising commitment to quality. These capacitors are typically large and more expensive, but their uniqueness adds a visual identity to my guitars that sets them apart. The best proof of their allure? You're here, reading this, likely because your curiosity was piqued by something you recognize as truly unique.
Why should I care about the components inside the guitar?
The components inside your guitar may not be immediately visible, but they speak volumes about the overall quality of the instrument. When you open up the cavity of one of my guitars, I want you to be impressed by the level of detail and care that has gone into its creation. In an industry where artisans sometimes use low-quality, generic components, my commitment to using the best possible materials stands as a testament to the quality and attention to detail in every instrument I build.
---
Ordering and Shipping
How can I join your waiting list?
To be added to my waiting list, please fill out the contact form on my website. I operate on a 'first come, first served' basis and limit myself to only two orders at a time to maintain quality and promptness.
How do I place an order?
To initiate an order, simply use the contact form available on my website.
Do you ship worldwide?
Absolutely, with over 27 years of experience, I've successfully shipped my creations all over the globe.
---
Sound and Technical Aspects
When did you design your straight-pull headstocks?
My current line of straight-pull headstocks was designed in early 2012. Guitars made before this date feature a string retainer bar on the headstock.
Why choose Sipo and Sapele Mahogany?
For more information, please visit this link.
Do you have videos demonstrating how your pickups sound?
While videos offer a glimpse, they can't fully convey the nuanced tonal characteristics of my pickups. You can visit my YouTube channel for some demonstration videos. For a more nuanced understanding, I suggest experiencing the pickups firsthand.
---
Miscellaneous
What is the meaning of your logo?
My logo is more than just a symbol; it's a multi-faceted representation of who I am and what I stand for. At its core, it captures my abstract self, my undying passion for craftsmanship, and my profound love for art and design. The smooth, flowing lines signify the fluidity, precision, and harmony I strive for in every instrument I craft. Through the lens of a designer, every detail in the logo has been carefully thought out to reflect my aesthetic sensibilities and artistic inclinations. The design also echoes my deep passion for history and science. The intricacies of the past and the wonders of science have profoundly influenced my perspective and work. Additionally, the logo draws inspiration from my Chinese birth symbol, the dragon, symbolizing strength, power, and good fortune. Altogether, this emblem epitomizes my commitment to delivering uncompromising excellence and staying true to my unique vision as both an artisan and an individual with varied passions.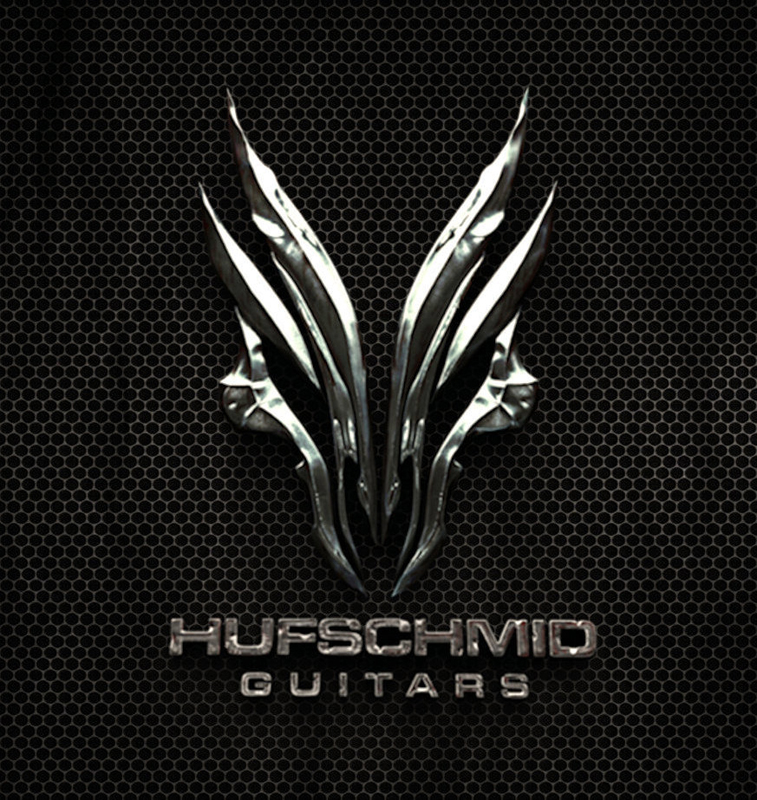 Do you offer apprenticeships or training courses?
Unfortunately, I don't offer apprenticeships or training courses. Space is limited in my workshop, and Swiss regulations make it challenging to employ additional help.
What's the meaning behind the Anvil plectrum?
The Anvil plectrum derives its inspiration from my surname, Hufschmid, which means 'horse shoe maker' in medieval German. The anvil is a vital tool for a horseshoe maker, serving as a sturdy surface upon which metal is shaped. Just as an anvil brings stability and precision to the blacksmith's work, my Anvil plectrum is carefully designed to provide stability, comfort, and precise play to your musical performance. Engineered with a focus on biomechanical optimization, this plectrum is purpose-built for players suffering from muscular cramping, tendinitis, or arthritis. The Anvil plectrum serves as a foundational tool in shaping your musical performance, allowing you to focus more on your music and less on the discomfort or limitations you may otherwise experience.
Which plectrum would you recommend for me?
For personalized plectrum recommendations, please click this link.
---
Contact and Communication
How can I get an endorsement?
If an endorsement interests you, please click here to explore the application process.
I've sent you a message on social media but received no reply.
If you've reached out to me on social media, you've likely received an automated reply kindly asking you to contact me via my website. Why is that? As a solo artisan, every minute counts when it comes to crafting my work and fulfilling orders. I've found that the best way to stay efficient and provide timely responses is to centralize all correspondence to my email. This approach allows me to review and respond to all queries in one place, rather than juggling multiple social media platforms. Your understanding of this process is greatly appreciated as it helps me focus on delivering the high-quality craftsmanship you expect.